Black Forest Trifle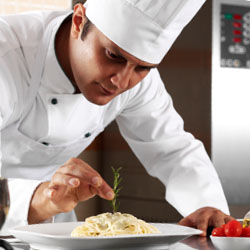 Ingredients
Serves 8 - Ready in 30 minutes plus chilling
500ml ready made custard
100g plain chocolate callebaut drops
400g chocolate brownies
2 x 390g jars cherries in kirsch or similar
300g whipping cream
200ml tub crème fraîche
25g icing sugar
Grated chocolate , to decorate, and fresh cherries (optional)
Put the custard in a pan with the chocolate pieces and gently heat, stirring continuously until the chocolate has melted into the custard. Cover with cling film and leave to cool
In the base of a trifle bowl arrange the brownies. Drain the jars of cherries, saving the liquid, and scatter the cherries over the brownies. Drizzle 100ml of the liquid over the cherries and brownies.
Spoon over the cooled chocolate custard and leave to chill whilst making the topping.
Lightly whip the cream, creme fraiche and icing sugar until soft peaks are formed. Pile on top of the trifle and decorate with grated chocolate.
Purchase Smartwater
Description
Ref.
Price
Qty
Black Forest Trifle
---
Black Forest Trifle Recipe