Self Saucing Lemon Pudding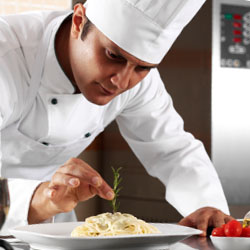 Ingredients
Serves 4 - Ready in 1 hour 45 minutes
50g butter
200g caster sugar
1 lemon, zested
100ml lemon juice (include the juice from the zested lemon)
3 eggs, separated
50g plain flour, sifted
250ml milk
1 tsp vanilla essence
icing sugar, for dusting
double cream, to serve



Heat the oven to 180c/160c fan/gas mark 4. Mix together the butter, sugar and lemon zest until pale and creamy in a food processor.
Add the lemon juice, egg yolks, flour, milk and vanilla one by one until a smooth batter is formed.
In a separate bowl whisk the egg whites until firm, but not stiff. Fold them into the batter mixture.
Pour the mixture into a buttered ovenproof baking dish, and place into a baking tray half filled with hot water. Bake for 45-50 minutes, until the top is golden and set and the is a lemon curd below. Dust with icing sugar and serve hot with cream.
Purchase Smartwater
Description
Ref.
Price
Qty
Lemon Pudding
---
Lemon Pudding Recipe