Summer Fruit Mousse Cake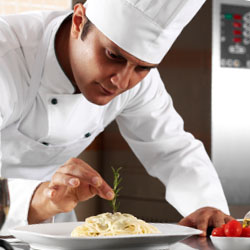 Ingredients
Serves 12 - Ready in 40 minutes plus freezing
100g softened butter,
100g caster sugar
100g self-raising flour
3/4 tsp baking powder
1tsp vanilla essence
2 eggs
FOR THE MOUSSE
500g frozen summer fruits
icing sugar
3 sheets leaf gelatine
3 egg whites
140g caster sugar
300ml whipped cream



Heat the oven to 180c/160c fan/gas mark 4. Beat the butter and sugar together. Add to this the flour, baking powder, vanilla and eggs. Beat until smooth. Pour into a lined 24cm cake tin and bake for 30 mins, or until risen and cooked through.
Remove cake from tin and place on a wire rack to cool. Leave the parchment paper on the bottom of the cake. Once cool cut the cake in half horizontally. Line the cake tin with cling film and put the top of the cake into the tin.
FOR THE MOUSSE: Put the berries in a pan over a low heat and bring to a gentle simmer. Sweeten to taste with icing sugar - but leave slightly tart as you will add to the meringue later.
Blend to a puree and then sieve. This should leave you with around 250ml puree.
Soak the gelatine in water until floppy and stir into the hot berry puree. Set aside to cool.
Whisk the egg whites to soft peaks, and whisk a 1/4 of the caster sugar in at a time. Continue to whisk until you u have a glossy, stiff meringue. Fold the berry puree into the meringue followed by the cream.
Pour this onto the sponge in the cake tin. Carefully lay the other sponge on top, paper side up. Freeze until 1 hour before required. Once removed from the freezer peel off the paper. Remove the tin and cling film. Dust with icing sugar and serve.
Purchase Smartwater
Description
Ref.
Price
Qty
Summer fruit mousse cake
---
Summer fruit mousse cake recipe