Chocolate Pancakes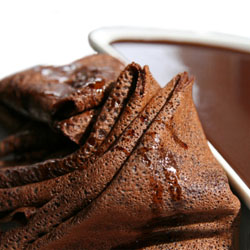 Ingredients
Serves 4 - Ready in 55 minutes
100g plain flour
30g cocoa powder
2 large eggs
300ml milk
50g caster sugar
½tsp baking powder
pinch of salt
30g butter, melted
Sift the flour, cocoa powder, baking powder, salt and sugar into a large mixing bowl. In a seperate jug whisk together the eggs and milk. Pour half into the dry ingredients, whisking continuously until you have a smooth thick batter. Whisk in the remaining egg and milk into the batter.
Once smooth, transfer the batter into a large jug and cover for 30 minutes.
After the 30 minutes whisk the batter to loosen it. Heat a tablespoon of the melted butter is a non stick frying pan. Using a ladle add enough batter to cover the pan about 1/2 cm thick. Cook until it is set on the bottom. Flip the pancake and cook until the other side is set. The centre should remain slightly soft.
Once they are all cooked, serve with whatever toppings you wish!
Purchase Smartwater
Description
Ref.
Price
Qty
Chocolate Pancakes
---
Chocolate Pancake recipe