Search Results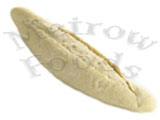 BARRA GALLEGA !!! 125g x 50 !!!
---
Stock code:BARRA125G
Description:
This Spanish baguette successfully combines a thin crispy crust with a light open crumb structure, baked on stone & flour dusted.
This bread is an ideal partner for tappas: patta negra, dried or smoked fish (sardines, anchovy) and marinated or grilled vegetables.
Preparation:Defrost; 15mins at 22°C Bake 10-12 mins at 190°C
Ingredients:WHEAT flour, water, RYE flour, yeast, iodised salt, antioxidant(ascorbic acid).
Allergy Information:Cereals containing gluten (i.e. wheat, rye, barley, oats, spelt, kamut or their hybridised strains).
Possible cross-contamination of Milk and products thereof (including lactose). May contain traces of egg, soya