Search Results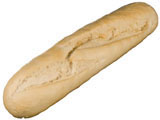 BAKED DEMI BAGUETTE 120Gm x 45
---
Stock code:TNSDB*
Description:
FB Demi-Baguette 120 Half baguette white
Preparation: Defrosting 0 min room temperature Baking 0-3 min 200°C Preheat oven 230°C
Ingredients:WHEAT flour, water, skimmed MILK powder, yeast, iodised salt, dextrose, flour treatment agents (ascorbic acid, L-cysteine).
Allergy Information:Cereals containing gluten, namely: wheat, rye, barley, oats, spelt, kamut or their hybridised strains, and products thereof. Milk and products thereof (including lactose) Possible cross-contamination: Soybeans and products thereof, Nuts, namely: almonds (Amygdalus communis L.), hazel nuts (Corylus avellana), walnuts (Juglans regia), cashews (Anacardium occidental, Sesame seeds and products thereof. Sesame seeds and products thereof.