Search Results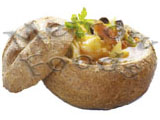 BOWL BREAD PANESCO 3x12x125g
---
Stock Code: BOWL
Description:
Emptied, round and flour dusted bread to fill with soups, salads or stews. The top is cut off and functions as the lid.
Preparation:
Defrost for 20 minutes before use. Can then be heated in the oven at 190c for 2-3 minutes.
Ingredients: wheat flour (49.7%), water (22.9%), rye flour (20%), yeast (1.6%), vegetable fat (1.4%) (cole-seed), salt (1.3%), sunflower seed (1.3%), wheat gluten (0.7%), linseed (0.7%), sesame seed (0.3%), poppy seed (0.1%).
Allergy Information:Contains gluten. May contain traces of egg, milk, soya Suitable for vegetarians and vegans. Not suitable for coeliacs.