Search Results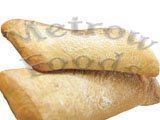 CIABATTA MEDIUM PANESCO X 24x250g
---
Stock Code: CIAMED
Description:
Rectangular crusty bread with open crumb structure. A long rise of the liquid dough provides the many large holes and typical taste (with sourdough as a starter).
Preparation:
Defrost for 15 minutes before baking at 200c for 12-15 minutes. The ciabatta can then be filled with fillings of your choosing.
Ingredients: wheat flour (60-65%), water (30-35%), wheat sourdough (<5%), iodised salt (<3%), yeast (<2%).
Allergy Information: Contains Wheat gluten. Suitable for vegetarians and vegans. Not suitable for coeliacs.