Search Results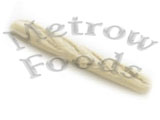 EXTRA LARGE BAGUETTES x 14
---
Stock code: ELF1
Description:
A par baked versatile baguette, with a low salt content. This baguette has a wide base making it easy to fill, with a semi open crumb and stays crispy for longer.
Preparation: Defrost for 15 minutes before baking at 190c for 15-18 minutes.
Ingredients: WHEAT flour, water, yeast, iodised salt, antioxidant (ascorbic acid), flour treatment agent (L-cysteine).
Allergy Information: Cereals containing gluten (i.e. wheat, rye, barley, oats, spelt, kamut or their hybridised strains).
May contain: Lupin and products thereof.