Search Results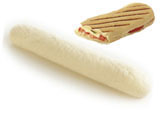 PANINI Panesco 45 x 125gm
---
Stock Code: PANINI001
Description:
Part baked panini baguette without incisions. Ready to bake
Preparation:
This product needs to be cooked in a panini grill to flatten it and give it the panini shape. Defrost for 15 minutes at room temperature. Fill the panini with required fillings and then place in panini grill at 220c for 3-4 minutes.
Ingredients: wheat flour (65-70%), water (25-30%), yeast (<3%), iodised salt (<2%).
Allergy Information:Cereals containing gluten
Suitable for vegetarians and vegans
Not suitable for coeliacs.