Search Results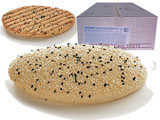 SESAMENIGELA PANINI 130gm x 45
---
Stock code: SESAME
Description:
Oval roll, focaccia type of bread decorated with nigella and sesame seeds.
Preparation: Defrost before use. Fill with desired fillings and place in a panini grill for 2-3 minutes.
Ingredients: WHEAT flour, water, SESAME SEEDS (5%), rapeseed oil, yeast, RYE flour,iodised salt, nigella (0,3%).
Allergy Information: Cereals containing gluten (i.e. wheat, rye, barley, oats, spelt, kamut or their hybridised strains). Sesame seeds and products thereof.
Possible cross-contamination: Fish and products thereof. Celery and products thereof. Lupin and products thereof.