Search Results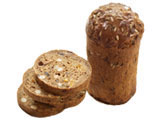 SUPREME FRUITS CONFECT PANESCO x 6
---
Stock code:SUPREME
Description:
Fully baked dark cylinder loaf with dried plums, dried apricots, raisins, sunflower seeds and nuts.
Preparation:
Keep at -18 °C. Do not refreeze after defrosting.
Defrost for 60 minutes before serving. Can be toasted.
Ingredients: WHEAT flour, water, raisins (11%), apricot (8%), plums (8%), ALMONDS (5%), sunflower seeds, sugar, BARLEY malt extract, yeast, palm oil, colza oil, iodised salt, RYE flour, emulsifiers (E322(SOYA), E471), preservatives (E220, E202).
Allergy Information:Gluten, soya, nuts, sulphur dioxide
Possible crosscontamination; Eggs, milk, sesame and the presence of a kernel cannot be completely excluded as this product contains fruits with kernels.