Search Results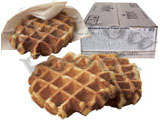 SWEETWAFFLE 32 x 90g Panesco
---
Stock code: SWEETW
Description:
Belgian Sugar Waffle
Preparation: Baking - 0 - 3 min - 200 °C - Preheat oven 230 °C
Ingredients: WHEAT flour, sugar (23%), margarine (palm fat, coconut fat, water,rapeseed oil, emulsifier (mono- and diglycerides of fatty acids)),water, EGGS, invert sugar, yeast, SOYA flour, salt, emulsifier (SOYlecithin), flavouring.
Allergy Information: Cereals containing gluten, namely: wheat, rye, barley, oats, spelt, kamut or their hybridised strains, and products thereof, Eggs and products thereof, Soybeans and products thereof.
Possible cross-contamination: Milk and products thereof (including lactose).